The world shipbuilding industry is undergoing new technological changes, which is a new proposition for all shipbuilding countries, and it is very likely to become a key factor leading the new world shipbuilding center. The technological element has become a comprehensive element that embodies the competitiveness of a country. The world shipbuilding industry generally maintains a "three pillars" competition pattern of China, South Korea and Japan. In the past 10 years, while the overall pattern has remained stable, new competition situations and trends have continued to evolve. The world shipbuilding industry competition has presented a series of new characteristics, that is, the shipbuilding industry is developing towards intelligence, greenness, large-scale and high-end development.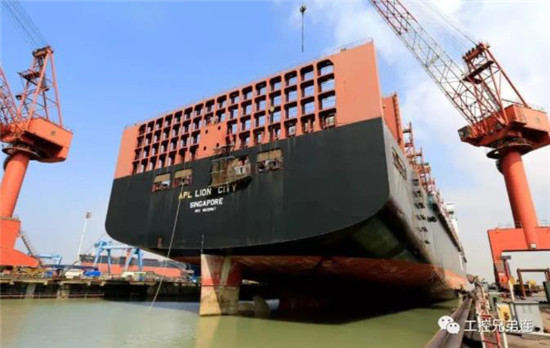 At the Digital Ship Summit held by Industrial Control Brothers in Shanghai (for details, see: New Industry, Intelligent Internet of Things, Digital CEO Summit & Digital Ship Summit successfully held in Shanghai), Softfoundry Technology (Ningbo) Co., Ltd. (hereinafter referred to as "Softfoundry" ) As a provider of the ship's AR smart operation and maintenance system, it demonstrated and won the favor of many users in the shipbuilding industry.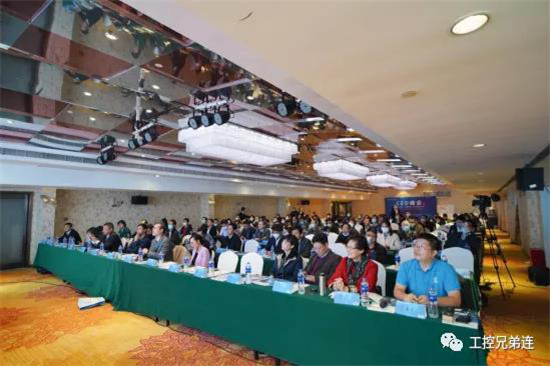 Softfoundry FacePro AR Xpert System integrates 5G, emerging Internet of Things, cloud computing, artificial intelligence, big data and other new technologies to greatly enhance the important means and core competitiveness of smart operation, maintenance and informatization of the maritime industry. The FacePro Xpert System has very distinctive features. The system is multi-faceted and can provide expert remote guidance, smart ship inspection, maritime rescue, emergency command, ship positioning, cabin/ship maintenance, smart inspection, skill training, global collaboration and other aspects explore a wide range of applications in the smart ship industry. At the same time, FacePro supports cross-regional, cross-level and multi-party collaboration, 4G/5G/Wifi/satellite network communication, data transmission encryption to ensure communication security, FacePro provides 4K ultra-high-definition remote video guidance to help corporate personnel in the digital age complete their work safely, efficiently, and intelligently, thereby reducing corporate costs, improving corporate efficiency and global competitiveness.
The reporter from Industrial Control Brothers Company (hereinafter referred to as the "reporter") made a special interview with Ms Joni (hereinafter referred to as "General Manager Joni"), the founder of Softfoundry, to dig deep into Softfoundry's products andsolutions, and what new generation of information technology has been integrated? What are the main applications? In the China Classification Society (CCS) and China Maritime Safety Administration's smart ship inspection project supported by the FacePro Xpert System, how does Softfoundry achieve cloud ship inspection during the pandemic? How's the effect? And where will the next development of Softfoundry go? What ecological partners are needed? Next, from the perspective of a reporter, we will learn about all aspects of Softfoundry.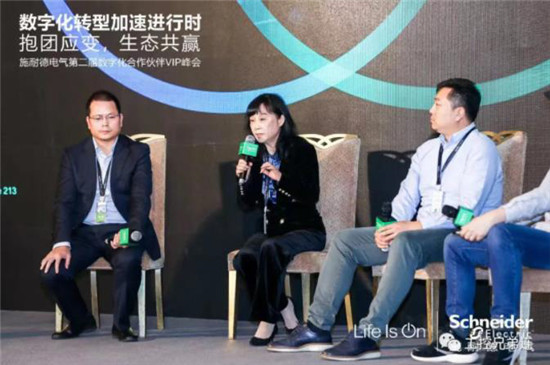 Ms Joni, the founder of Softfoundry, was invited as a guest to participate in the second Schneider Digital Partner VIP Summit

Reporter: What kind of challenges does the shipbuilding industry face with technological changes and historical opportunities?
Ms Joni: The shipbuilding industry is a typical three-intensive industry of capital, technology and labor. At present, major shipbuilding countries in the world, such as China, Japan, and South Korea, are facing the problem of insufficient labor or professional and technical personnel to varying degrees. The global pandemic has prevented the expert team from reaching the site or facing the challenge of high travel costs.
FacePro 5G+AR Xpert System is a solution to these pain points and problems. It can solve the shortage of maintenance engineers, make up for the lack of technical level and experience of front-line operators through the remote expert system, reduce travel costs, and greatly reduce the loss caused by unplanned downtime.

During the pandemic in 2020, China Classification Society (CCS) and China Mobile joined hands with Softfoundry to use the "FacePro 5G+AR remote expert technology" to successfully compete in the "Tianshun River", "Tian'an River" and "Pearl" of COSCO SHIPPING Group. The "Hai" vessel has carried out many "cloud inspections", which transformed 5G+ smart ship inspection from concept to reality, and gradually improved and laid the technical foundation for remote ship inspection. This is the first application of "5G + FacePro AR Remote Guidance" technology in the field of ship repair and smart ship inspection in Zhoushan, Zhejiang. The contactless cross-border remote collaboration ensures that shipping companies can keep orders, continue orders, and increase orders during the epidemic, and strongly support the resumption of work and production and efficient operations of shipping companies.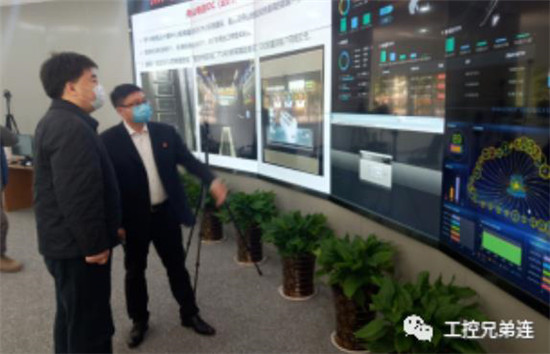 Scene of remote ship inspections carried out by multiple parties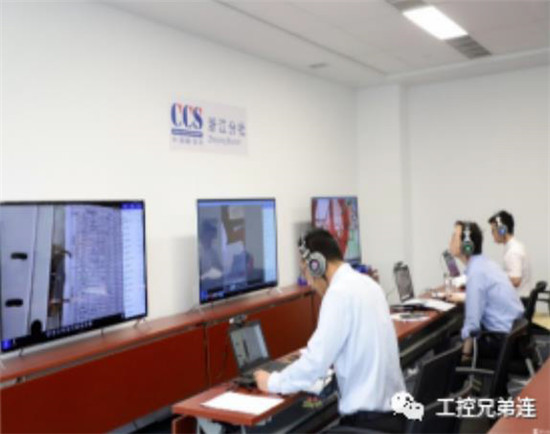 Scene of China Classification Society when multiple parties carry out remote ship inspections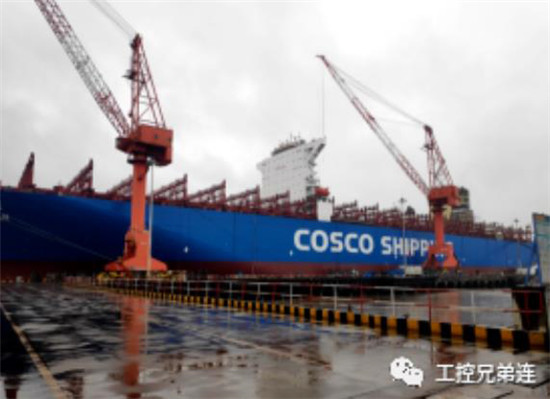 Ship inspection site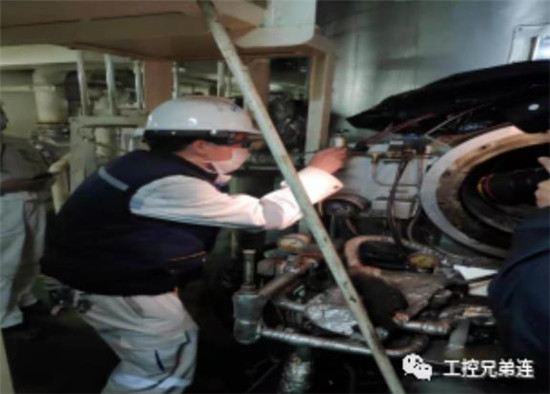 On-site ship scenarios for remote ship inspections carried out by multiple parties
Reporter: Ms Joni please introduce the main functions of the powerful FacePro 5G+AR Xpert System mentioned earlier, and the main components of the cloud architecture?
Ms Joni: For marine operations on ships, once the equipment fails, it needs to be resolvedin time, otherwise it will bring huge economic losses to the enterprise. The FacePro Xpert System transmits live video to remote experts in real time from the first-person view. Experts can do real-time AR guidance based on the video and remotely control the smartglasses of on-site operator. It can support 4K 30-frame ultra-high-definition video guidance and on-site operations. On-site operators put their hands to focus on troubleshooting and maintenance, which not only improves maintenance efficiency and guarantees safety, but also achieve the sharing and knowledge of the expert, and solves the problem of shortage of technical expert resources and high cost of traveling to and from the site. The workflow module supports user-defined inspections to improve SOP work efficiency. It can also be extended to do firstperson view training and build knowledge bases to reduce costs and increase efficiency.

Main features of FacePro Xpert System
The cloud architecture of the FacePro Xpert System is mainly divided into the on-site, the expert end and the Chief commander from the system user end. The connection of the entire system supports cross-regional, cross-level and multi-party communication, and supports 4G, 5G, Wifi, satellite network communication and other communication methods. The highspeed synchronization of data streams is achieved through the cloud platform of Softfoundry, and through the encryption algorithm of Softfoundry, in data transmission, both the communication speed and the communication security are guaranteed.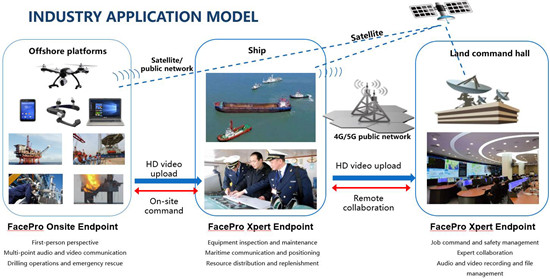 Cloud architecture of FacePro Xpert System
Reporter: What are the typical application scenarios of the FacePro AR Xpert System in ship berthing operation and maintenance?
Ms Joni: The FacePro AR Xpert System can have many use cases in typical application scenarios of ship berthing operation and maintenance, such as smart ship inspection, remote maintenance, ship construction supervision, technical support for offshore fish industry bases, and remote guidance from offshore oil and gas exploration experts. Typical application scenarios such as business/technical meetings, multi-party expert collaboration, establishment of a workflow knowledge base, support for emergency response and on-site rescue. It can be understood that the FacePro AR Xpert System can be used wherever there is a need to interact through video, audio, and expert library information in the cloud platform.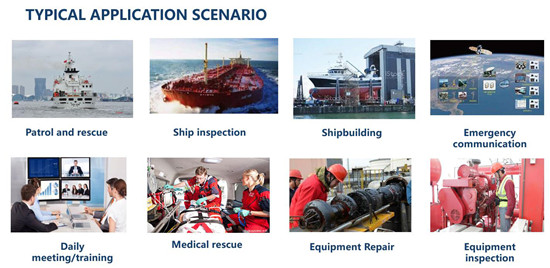 The FacePro AR Xpert System helps surveyors achieve remote smart ship operation and maintenance, first-person view of real-time high definition video, multi-party multimedia communication, file transmission, and remote control through mobile phones, AR glasses, drones, handheld ship inspection terminals and other equipment. , Geographic positioning, smart inspection, remote capturing of high-definition photos and other functions, crossregional implementation of remote smart ship operation and maintenance, help the digitalization of the shipbuilding industry, bring convenience and innovation. This is a new application based on the new generation of network technology in the traditional shipbuilding industry. There are great business opportunities. Softfoundry also hopes to develop together with more partners and customers.
Reporter: How is the security mechanism of FacePro guaranteed?
Ms Joni: FacePro has multiple encryption methods to ensure the security of customer information. Such as multiple authentication, signaling encryption, code stream encryption, database encryption, etc. The FacePro system platform supports public cloud, private cloud and hybrid cloud models. The system supports 4G and 5G networks, and is also compatible with VPNs or corporate intranets. It can also support MESH self-organizing network architecture and satellite networking.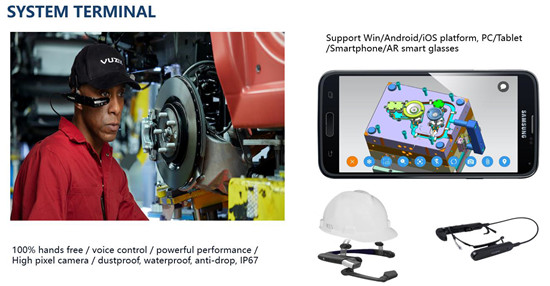 FacePro Xpert System terminal
Reporter: What are the main aspects of the service value of the FacePro AR Xpert System?
Ms Joni: The service value of the FacePro AR Xpert System is quite large, the main ones are as follows:
1. Reduce enterprise product operation, communication, and travel costs, improve efficiency and ensure safety;
2. Smart after-sales, reduce user downtime losses, and improve customer satisfaction;
3. FacePro supports 14 languages including Chinese and English, achieving seamless connection between global expert and on-site technicians;
4. The FacePro Xpert System provides remote smart operation and maintenance,visualization and service optimization of the entire product life cycle;
5. High security, high quality, low bandwidth support 4K ultra-high-definition video guidance, 48K high-fidelity sound quality, data transmission encryption; global competition, help enterprises digital transformation;
6. The efficiency improvement achieved based on the 5G+ Industrial Internet FacePro Xpert
System platform is quite large:
-Data value: visualization (trustworthy)
-Reduce maintenance costs: 30%-40%
-Reduce equipment downtime: 40%-50%
-Failure resolution rate: 70%--75%
-Improve the skills of new employees: 35%-40%
-Efficiency improvement: 35%-40%
Reporter: The FacePro AR Xpert System supports China Classification Society (CCS) smart ship inspection. What are the expected economic and social benefits?
Ms Joni: With the rise of country's cross-border trade and maritime transport industry, maritime shipping has also developed rapidly. As the main carrier of waterway and sea transportation, ships increasingly show their outstanding advantages. However, unlike traditional land vehicles, ships are bound to be affected by objective factors such as maritime climate, channel status, regional remoteness, and scattered layout. The impact has brought certain difficulties to the traditional ship inspection work that relies mainly on manmade boarding inspection methods.
In order to meet the significantly increased requirements for remote ship inspections due to the prevention and control of the COVID-19 pandemic, and to conduct ship inspections in a "contactless" manner in the post-pandemic era, China Classification Society and Softfoundryhave jointly carried out research on key technologies for real-time remote inspection of ships for annual inspections using new technologies and equipment such as 5G+ remote xpert systems, self-organized networks, AR glasses, smart phones and drones . A series of solutions such as "5G+AR glasses/smartphone/drone" data collection + professional inspection interactive platform, scene inspection based on ship-shore collaboration, and the demonstration and verification effect of real ship are good. The communication from the bottom image of the engine room of the world's largest 400,000-ton bulk ship to the shorebased Beijing Classification Society and Singapore Maritime Safety Administration was transmitted through 5G Full HD 30 frames throughout the entire process. The effect was very good.
The "5G+Industrial Internet" remote ship inspection method is not limited by time or region, and can achieve real-time and effective information sharing and communication between surveyors, international experts, and crew. Under special circumstances such as pandemicprevention and control, it can carry out ship inspections in a timely and effective manner plays an important role in ensuring the normal operation and safety of ships. It has a significant role in promoting the resumption of work and production for shipping companies, ships, shipyards and other enterprises, which can effectively improve production efficiency, optimize resource allocation, save personnel travel expenses, reduce ship operating costs, improve information technology, and promote continuous business improvement And quality improvement, compared with traditional inspection methods, it can reduce the inspection time and cost by about 60%, and promote the green development of the shipbuilding industry.
Reporter: In addition to the field of smart ships industry, the FacePro AR Xpert System has also been applied in which industrial fields. What are the typical customers?
Mr. Guo: The FacePro AR Xpert System has served smart equipment, automobiles, rail transit, petrochemical, electric power, new energy, maritime, aerospace, public security and fire protection, smart agriculture, and smart medical industries. The deployment and development of 5G networks accelerate the digital transformation of the economy and society. AR terminals have advantages in spatial positioning and tracking, object recognition, and human-computer interaction. With the high bandwidth and low latency of 5G, they are widely used in police, transportation, and medical care. , Automotive, education and other fields. The Facepro 5G+AR Xpert System uses AR glasses to locate and recognize learned object parts in real time in the glasses, display real-time data of the object, 3D explosion model and manual, etc., so that users can learn through remote guidance from the expert.
The viewing of 3D models and real-time AR annotations provide on-site personnel with a more vivid interactive experience. In the Guangqi Honda project, Softfoundry uses the collaborative browsing of the 3D exploded map to help the maintenance personnel of the 4S shop to quickly solve the problem.
Many Fortune 500 companies are already softfoundry customers, such as COSCO Shipping Group, China Classification Society, Shanghai Secco Petrochemical, Guangzhou Automobile, Yili Group, Chengdu EMU, Baosteel, Guohua Power, Ningde Times, Far Alliance Health, ABB, Schneider, DMG MORI, Porsche, Honeywell, TUV, TaTa, Indian Oil, etc.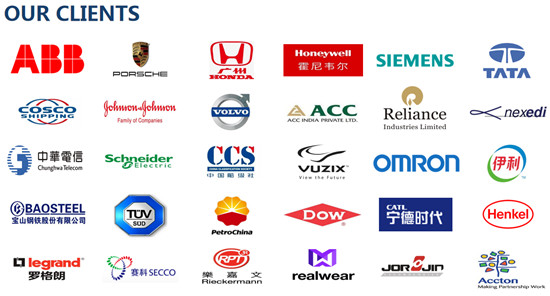 Clients of FacePro Xpert System
Reporter: What is the business model of the FacePro Xpert System? How is the development in China planned?
Ms Joni: The business model of FacePro Xpert System is divided into three types:
1. Support large enterprises to establish high-security private cloud services;
2. Support high-quality SaaS services for small and medium-sized enterprises (Huawei Cloud and AWS Cloud);
3. Support global communication and collaboration services; global competition helps enterprises' international competitiveness.
In terms of development planning, China's development is obvious to all. As a major manufacturing country, it is developing rapidly towards a manufacturing power. Softfoundrywill be deeply involved in the Chinese market. Softfoundry AR Xpert System technology has undergone practical tests under various working conditions, and the technology is mature. The next important thing is to work with partners to build a digital smart service ecosystem, innovate service models, provide full-service solutions, and drive sustainable development.Due to the huge industrial system, Softfoundry will be looking for industrial ecological partners, system integrators and agents together to work together for a win-win cooperation.
Reporter: Thank you Ms Joni for sharing all aspects of this powerful FacePro Xpert System. Finally, please introduce Softfoundry to let everyone know more. Thank you
Ms Joni: Softfoundry Technology (Ningbo) Co., Ltd. is a national high-tech enterprise founded in Ningbo High-tech Zone. It is committed to developing a new generation of green communication technology, becoming the world's leading high-definition cloud video expert, and providing smart services for Industry 4.0 In fields such as medical care, smart education, mobile commerce, and smart government affairs, we will develop innovative applications of smart cities to create value for customers. Softfoundry has independent intellectual property rights and innovative research and development capabilities, and has technical service centers and R&D centers in Ningbo and Shanghai. Softfoundry has established a 5G innovative application partnership with China Telecom, and has also established strategic partnerships with Qualcomm and Amazon.
5G+ industrial Internet smart services build a new type of competitive advantage for enterprises. The FacePro Xpert System is remotely coordinated without time and geographical constraints. It can achieve real-time and efficient knowledge and information sharing between global expert and on-site technicians, first-person view communication, and high-definition technical guidance training, which can carry out maintenance and maintenance in a timely and effective manner, ensuring the normal operation and safety of industrial enterprises, and helping enterprises to operate efficiently. Green service, value creation, and sustainable development of the company are the development vision of Softfoundry.
Reporter: Thank you Ms Joni for accepting our interview. The cooperation between Industrial Control Brothers and Softfoundry is not only about ecological construction, but also can work together for more digitalization. Transformation brings more value and energy, and helps the deep integration of manufacturing and service industries to move towards highquality development.
Ms Joni: Thank you very much for the interview with Industrial Control Brothers. If you wantto know more, you can visit our website www.softfoundry.com. Welcome to our company for communication and negotiation. The address of Softfoundry Technology (Ningbo) Co., Ltd. is 宁波市高新区光华路 299 弄 9 号楼第 18 层(研发园二期 C9), all matters are welcome to interact with us through the customer service hotline: 4006888640. At the same time, softfoundry can also be found through the Industrial Control Brothers Company. 2021 will also be an uneasy year. I hope that everyone will give full play to their strengths, cooperate in the industry, and develop together. The softfoundry team will warmly welcome all parties to cooperate.